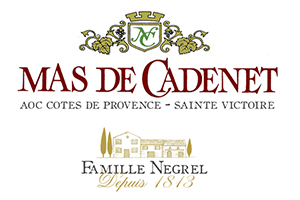 Sainte Victoire, Provence
(Organic)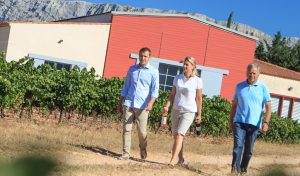 The Mas de Cadenet is located in the breathtaking landscape at the bottom of the Sainte Victoire Mountain, near Aix-en-Provence. This scenery was a never ending inspiration for the Master of Impressionism, Paul Cézanne. So we could say that the "picture perfect" Estate is like a painting!
The history of the Mas de Cadenet dates back to 1813 when the Negrel Family acquired the Estate. Today Guy Negrel runs the Estate with the help of his children Maud and Matthieu Negrel.

The vineyard is on a south facing plateau, 250 meters above sea level. Five hectares are in the Côtes de Provence Appellation and forty hectares are on the sub-appellation Côtes de Provence of Sainte Victoire.
The Mas de Cadenet produces 60% of rosé wines, 30% of red wines and 10% of white wines. The grape varieties grown in the vineyard are Rolle, Syrah, Grenache, Cinsault and Cabernet-Sauvignon. The yield of the vines is naturally kept low and ensures high quality wines (45hl/ha on average).
The Négrel family strongly believes that organic farming is the most appropriate way to express the minerality and nuances of its terroir. The notion of a family domain makes sense, "We do not inherit the land of our parents, we borrow it from our children".
Viticulture and winemaking are here certified organic by the "Bureau Veritas" so when you are looking to buy Provencal Rose, Mas de Cadenet by Famille Negrel makes good ethical sense.